Do you want to use a sterilizer for disinfection? Do you want to use a disinfect fog machine or disinfection door? Homes, offices, factories, shopping malls, cinemas, schools, hospitals, and more places? Due to the increasing development of the new coronavirus, many countries around the world have been affected by the new coronavirus pneumonia (COVID-19), and the economies of many countries are already at a stage of stagnation. People are not allowed to travel, eat, go shopping, etc., or go to the office normally. Because everyone needs to protect their own safety. Therefore, disinfection has become a very important way to protect your own safety.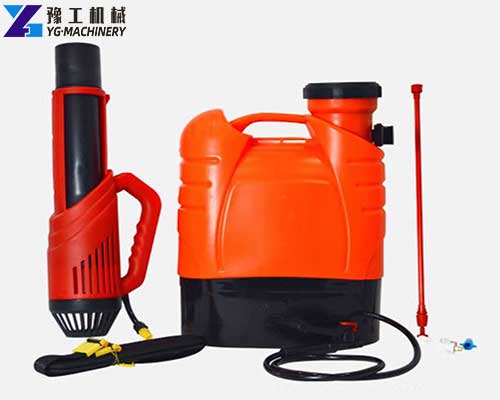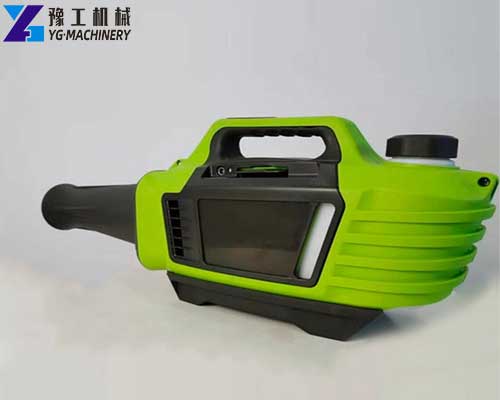 Model
Electrostatic backpack sprayer
Battery
Core lithium battery
Sprayer body
ABS material
Tank capacity
16L(2.27Gallons)
Working times
3.5 hours
Charging time
90Minutes
Nozzle Sprayer Sizes
10 micron, 20 microns, 30 microns, 40 microns,
50 micron(full cone).360° fan
Effective range
3-6m (Electrostatic with fan open)
1-2m (Electrostatic with fan off)
Rated Voltage
24V
Battery capacity
30AH
Rated power
200W
Gross weight
7.8kg
Packing size
740*280*670mm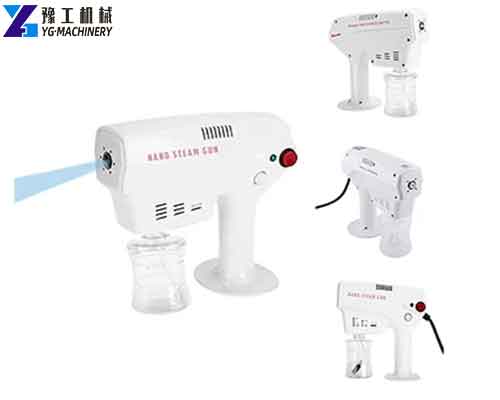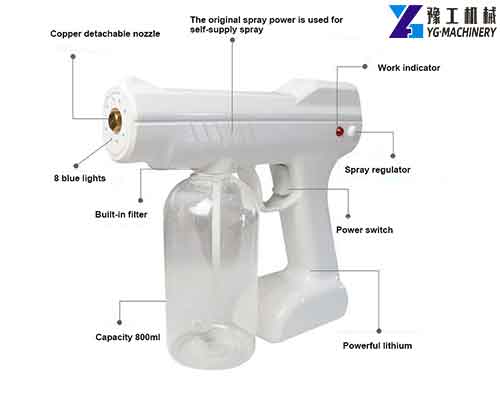 | | |
| --- | --- |
| Product size | 22*21CM |
| Product weight | 900g |
| Rated voltage | 110-240V/50Hz |
| Rated power | 10w |
| Battery capacity | Mach 2600 |
| Power supply voltage | DC12V |
| Charging time | 2 hours |
| Use time | 3 hours |
| Water bottle capacity | 800ml |
| Net weight | 9.3kg |
| Gross weight | 10kg |
| Quantity | 10 |
| Carton size | 59.5*44.5*27.5CM |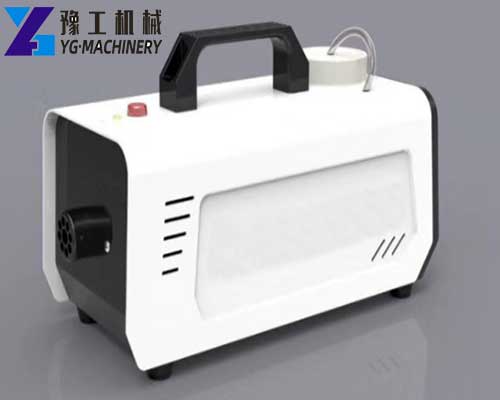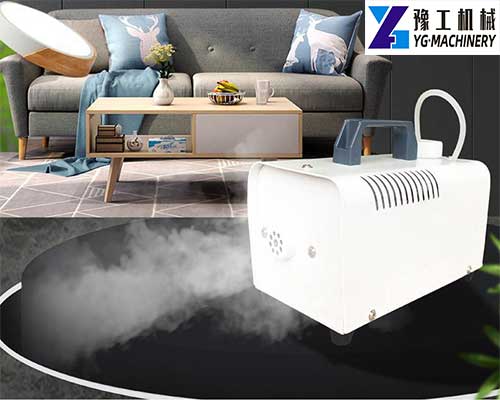 | | |
| --- | --- |
| Voltage | ± 10 AC 110 / 230V50-60Hz |
| Power supply | 400W |
| Warm uptime | 3 minutes |
| Oil absorption | 250ml oil bottle |
| Spray distance | 3-6 meters |
Features of YG Disinfect Fog Sprayer Machine
At present, YG Machinery has developed several disinfection machines that can be used in different places. Our disinfection channels can be used in shopping malls, movie theaters, etc., which can perform temperature measurement and disinfection. On the highway and the main road, you can use our fog cannon or knapsack sprayer machine. At home, you can use our fog smoke machine, and we also have a series of products such as car disinfection machines, soap dispensers, electrostatic sprayers, handheld spray guns, etc. to protect your safety.
Each product can be used for disinfection. According to the different needs of customers, you can choose the product that suits you. All of our company's equipment has qualified certificates and professional quality control, so there is no need to worry about product quality. Our professional after-sales team will solve your worries. All salespersons of YG Machinery are very professional in products, trust us, and contact us!
Disinfect Fog Machine Price – YG Manufacturer
There are many different types of machines on the market, but finding one in this crisis is easier said than done. Their prices range from $150 to $5,000 or more. In my opinion, 99% of people and businesses do not need to buy some expensive $5,000 fog machine. In my experience, at YG Machinery, you can definitely find a suitable machine for you, such as an electric ultra-low volume (ULV) wet sprayer, plus one gallon of disinfectant, you can easily cover each 2,500 square foot building The surface is disinfected in an hour or less. For example, the disinfection channel of YG Machinery can measure temperature and disinfect as a whole, which improves efficiency and is suitable for most places. For example, the atomizer of YG Machinery can be placed indoors for disinfection, and it is also suitable for fresh air in the car, and the price is reasonable.