Concrete wall saw is mainly used for the cutting of reinforced concrete wall, brick wall, and other stone materials, as well as the renovation and reinforcement of old buildings. It can also cut large-area walls, such as door holes, windows, or elevator holes. The wall that cut with it can be formed at one time, which can avoid the damage or the building structure caused by the traditional knocking construction. At the same time, the machine can help save time, material resources, labor, and costs. Concrete wall saw can also be called wall cutting saw, concrete wall saw, wall cutting saw machine, which usually contains two types, hydraulic concrete wall and electric concrete wall saw according to the power. You can check the specifications of all the models below and choose the suitable concrete wall saw for sale in our company. At YG Machinery, we also have the wire saw machine, rock splitter machine, can suitable different engineering projects.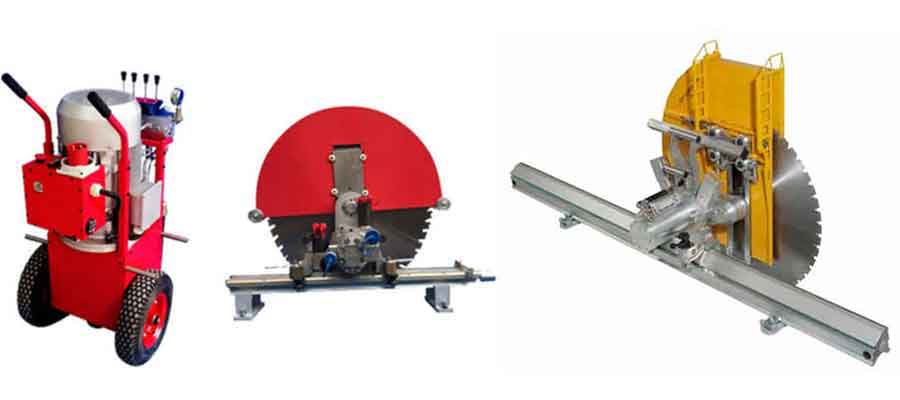 Hydraulic Concrete Wall Saw
The hydraulic concrete wall saw is composed of power stations and saw head. It was originally designed for cutting concrete walls and used for building engineering transformation. This type of machine is very simple to operate, only a power source can help it complete the cutting work. In addition, linear cutting can make construction section neater. It is arguably a very popular type of wall saw machine for the cutting of reinforced concrete, rock, ceramic, brick wall, and some other hard materials.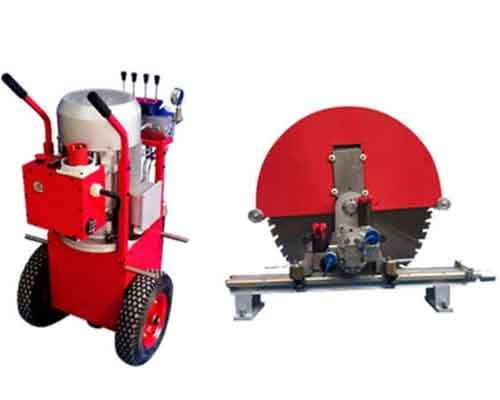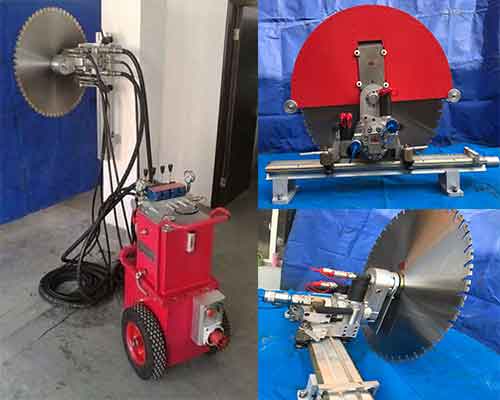 Technical Parameter of Hydraulic Concrete Wall Saw Machine
Hydraulic

 

Oil

 

Pump

Model
YG 600
YG 700
Max.power
25KW
30KW
Motor cooling method
Air cooling
water cooling
Rated voltage
380V 50HZ
380V-420V 50HZ-60HZ
Pressure stages
3
3
Max.operating pressure
200bar/20Mpa
210bar/21Mpa
Oil flow rate
30-80L/min
40-100L/min
Dimensions
600mm*650mm*1050mm
500mm*520mm*1100mm
Weight
220kg
140kg
Wall

Saw

Saw blade diameter range
800-1400mm
800-1600mm
Cutting depth
620mm
730mm
Max.working pressure
180bar/18Mpa
200bar/20Mpa
Max.oil flow rate
100l/min
100l/min
Gearing
Gear
Gear
Rotation speed
450/950/1300Rpm
450/850/1200Rpm
Dimension
400mm*420mm*400mm
400mm*420mm*400mm
Weight
38kg
39kg
Electric Concrete Wall Saw for Sale
The electric concrete wall saw for sale in YG Machinery uses heavy double insulation high power motor and reducer, which has the characteristics of low failure rate, long service life and can save the maintenance cost at the same time. A special mechanical clutch protection device can effectively prevent the machine and personnel from damage due to improper operation. Manual or automatic cutting control device can not only improve the construction quality and speed up the construction, but also can reduce the labor intensity of the operator greatly. The machine can be divided into three models according to the diameter of the saw blade. Meanwhile, the three models are different in the depth of cut. Please kindly choose the right one depending on your needs.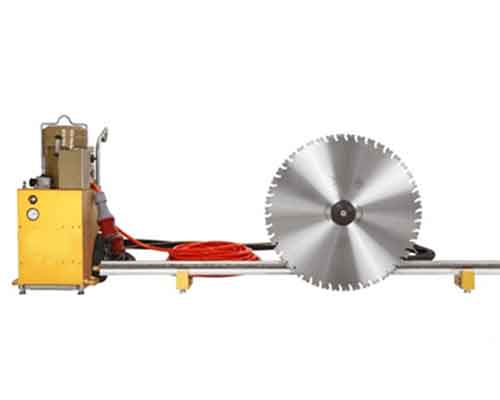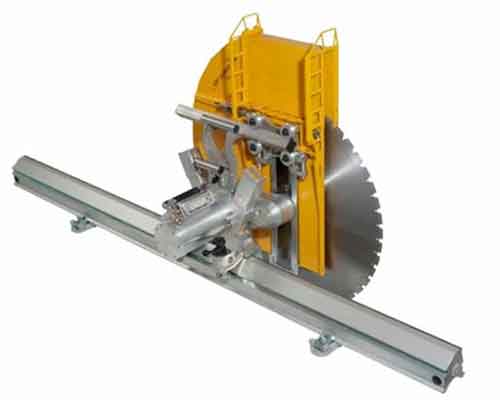 Technical Parameter of Concrete Wall Saw for Sale
| | | | |
| --- | --- | --- | --- |
| Model | YG-800 | YG-1000 | YG-1200 |
| Saw blade diameter | 800mm | 1000mm | 12mm |
| Cutting depth | 300mm | 400mm | 500mm |
| Power | 6150w | 6150w | 6150w |
| Cutting Efficiency | 3-6m/H | 3-6m/H | 3-6m/H |
| Color | Customer required | Customer required | Customer required |
The Features of Hydraulic Concrete Wall Saw
1.High work efficiency. The machine can increase the working speed and shorten construction time.
2.Low labor cost, large competitive advantage, and suitable for large-scale cutting engineering.
3.Low loss cost. The safety, reliability, and stability of the hydraulic system itself greatly reduce the loss cost of construction equipment.
4. The static cutting technology used in the hydraulic wall saw the machine has become a construction and design concept.
5.With overload protection which can ensure safety.
6. More powerful that can improve the cutting period and labor productivity.