Ride on roller for sale produced by YG Machinery is a very popular small road roller. Compared with the walk behind roller, the ride on the roller also can be called driving road roller, which is more labor-saving and can work more efficiently. There are two models of driving road roller, one is a static road roller, the other is a full hydraulic ride-on roller. I will give a detailed introduction of the two types of driving roller below, you can refer to their parameters to choose the suitable one for you. Meanwhile, you are welcome to send us an inquiry to consult the price and choose the model that you think is more cost-effective. I believe that the price of our products is absolutely competitive among similar products and won't exceed your budget.
YG-850 Driving Roller
The weight of this machine is 750kg and the package size is 1050x900x1200mm. The size of the steel wheel is 580x700mm, while the wheel under the seat is 500mm wide, without vibration or pressure which only plays a role of balance. It is powered by a single-cylinder diesel engine and the fuel tank capacity is 3.6L. The YG-850 driving roller adopts the vibration mode of mechanical transmission and electromagnetic clutch. The maximum forward and backward speed can reach 4km/h. Meanwhile, it can climb a slope of fewer than 30 degrees. If the machine can meet your requirements, please click the below button to send us an inquiry for a quotation.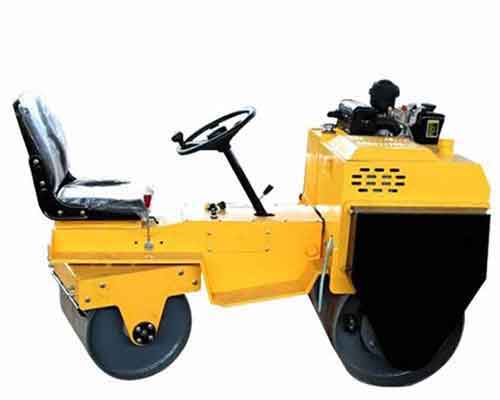 Technical Parameter:
Model: YG-850
Power: 6.0HP
Walk Speed: 0-4km/h
Climbing Capacity: 30%
Static Linear Load: 45n/cm
Exciting Force: 20KN
Vibration Frequency: 70HZ
Drive: Hydraulic Drive
Water Tank: 15L
Hydraulic Oil Tank: 3.6L
Engine Model: HONDA GX270
Steel Wheel Size: 580x700mm
Package Size: 1550x900x1200mm
Weight: 750kg
Get a Free Quote
Full Hydraulic Ride-on Roller for Sale
The full hydraulic ride-on roller with high working efficiency is more comfortable to operate. Although its price is relatively higher than the mechanical models, its maintenance costs have also been reduced. If the construction schedule is tight and you would like to purchase a more efficient road roller, the full hydraulic ride-on roller for sale in YG Machinery will be your ideal choice. Refer to the below picture and parameter of the machine, and feel free to contact us to get a price quickly.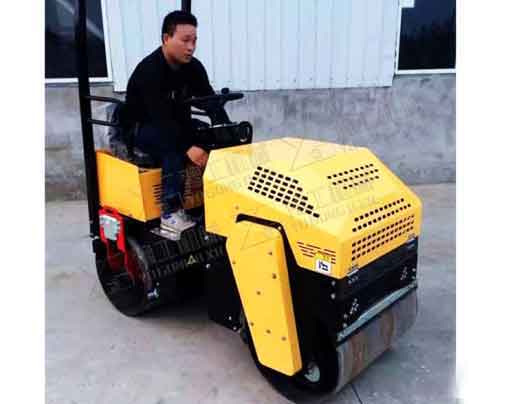 Technical Parameter:
Model: YG-880
Power: 25HP/20HP
Walk Speed: 0-5km/h
Climbing Capacity: 30%
Static Linear Load: 45n/cm
Exciting Force: 50KN
Vibration Frequency: 70HZ
Drive: Hydraulic Drive
Water Tank: 15L
Hydraulic Oil Tank: 19L
Engine Model: GX390
Steel Wheel Size: 800x850mm
Package Size: 2100*1000*1650 mm
Weight: 1000kg
Get a Free Quote
Outstanding Features of Ride-on Roller for Sale in YG Machinery
Small working radius, can work in a small area.
Wide range of applications. The machine can be used for compacting asphalt surface, compacting gravel, sand, and other engineering foundation, rolling lawn.
Famous diesel engine, famous brand quality assurance, superior performance, easy to start.
International brand SAUER hydraulic transmission unit, infinitely variable speed, convenient commutation.
The handrail adopts a flat gear adjustment mechanism, which is flexible and convenient. Height can be adjusted to adapt to different heights of workers to operate.
International famous NSK bearings to ensure the working performance of the machine.
The surface coating makes the machine beautiful in appearance, which can also prevent rust and corrosion.
The machine has passed the CE certification.
Ride-on Roller Manufacturer – YG Machinery
We are a factory specializing in the production of road machinery. Road marking machine, floor shot blaster, road roller, asphalt crack filler machine, floor grinder machine, concrete curb machine, etc. for sale in YG Machinery with high quality and best price. If you are interested in our machine, please contact us now to know more details.