In February 2018, a customer from Singapore purchased two hydraulic diamond wire saw machines from our factory for concrete cutting. Before he decided to place an order with our company, he sent inquiries to several other manufacturers. After he told manufacturers about his uses and requirements for the machine, he received replies soon. Through a period of communication and comparison between the various manufacturers, he finally chose us – Henan YG Machinery Co., Ltd. Because he thinks that the technical parameters of our machine are more consistent with his requirements and the price is more reasonable. After he had been using the machine for some time, the sales manager who is in charge of this business asked him some questions about the uses of the diamond wire saw cutting machine. The customer feedback is that the machine is of good quality and the working efficiency is very high.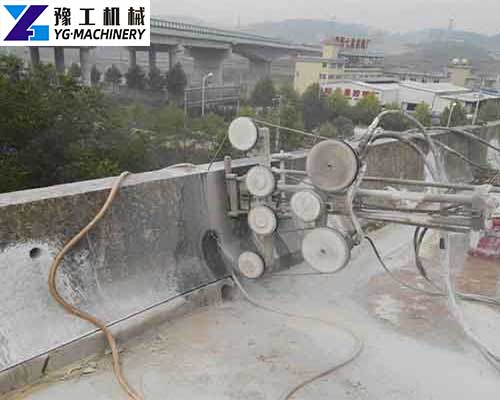 Wire Saw Wheel Parameters
Hydraulic Pump Parameters
Wire Drive Mode
hydraulic
Motor Power
22/25kw
Motor Type
HM-80, 2 Cylinders
Voltage
220V/380V, 50Hz
Minimum Input Power
25HP/33HP
Hydraulic Pump Type
Gear Pump
Output Shaft Speed
350/940/1300r/min
Main Drive Motor
40-100L/min
Maximum Wire Length
20m
Working Pressure
15-20Mpa
Feeding Method
Fully hydraulic
Oil Tank Capacity
17L
Wire Saw Wheel Weight
64kg
Weight
160kg
Motor Weight
14kg
Size
700*700*1200mm
Size
1700*700*800mm
 
Diamond Wire Saw Manufacturer – YG Machinery
According to the power division, in addition to the hydraulic rope saw machine, there is an electric diamond wire saw machine for sale in our company. They each have their own advantages, you can choose the right type of machine for you based on their strengths and weakness. Please feel free to contact us for a quotation now.