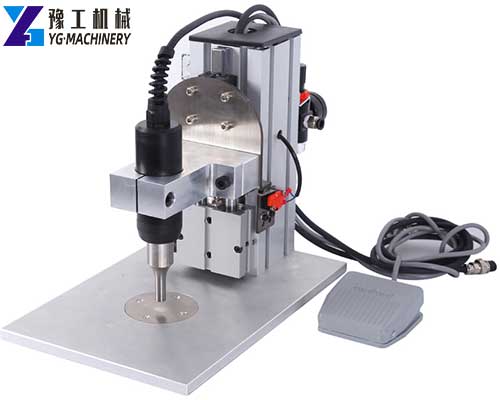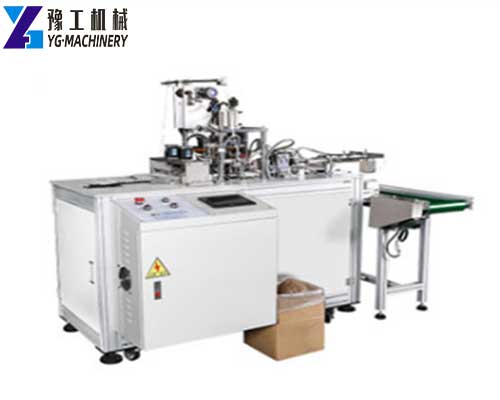 This earloop welding machine uses hand-welded elastic ear straps. The operation is very simple. This model can preset the welding time according to different thickness materials, avoiding the problems of manual control of short welding time, insecure time, long welding time, fabric damage, and other problems.
Earloop Welding Machine Manufacturer – YG Machinery:
At YG Machinery, we have many other anti-epidemic materials machines for sale. If you are interested, you can click the link to learn. Regarding the sterilized machines: fog cannon machine, disinfection channel, knapsack sprayer, air disinfection machine, handheld spray gun, etc. We also have a complete production line for masks: mask making machine and melt-blown cloth production line. There are also self-made protective clothing, protective masks, infrared thermometer, etc. We also have disinfection tablets. If you need it, you can contact us!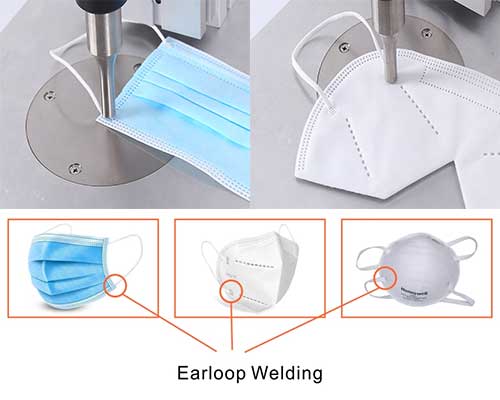 Earloop Welding Machine Technical Parameters :
| | |
| --- | --- |
| Product name | Fully Automatic Earloop Welding Machine |
| Machine size | 6700*3500*2000 mm |
| Machine weight | 2000Kg |
| Voltage | AC380V ±5% 50/60HZ |
| Air supply demand | 0.4≤P ≤0.7 Mpa,flow 300L/min |
| UPH | 100~120PCS/min |
| Operation ratio | 99% |
| Yield | ≥98%( Not including the raw materials for undesirable and misoperation ) |
| Operating environment | A clean and tidy environment without corrosive gas and harmful dust,degree0°~40° |
Ultrasonic Non-woven Mask Spot Welding Machine Features:
The Japanese original piezoelectric ceramic transducer has a strong and stable output;
The power is super large, it can cope with all kinds of difficult pressure fabrics, the power can be adjusted according to the thickness of the fabric;
The anti-backing of the fuselage plus the coaxial direct pressure design, the pressure is balanced, and the precision of spot welding is improved;
The vibrator is imported from the original, the conversion efficiency of sound and electricity is complete, the ultrasonic energy is high, and it is not easy to get hot;
The important electronic components of the equipment adopt excellent original foreign brands, and the quality is guaranteed;
The mold assembly adopts a sliding-type flower wheel bracket, the size is adjustable, and the operation is convenient;
The bottom mold adopts high-strength mold steel, which can be rotated to reduce the wear of the mold and the bottom, and the service life is durable.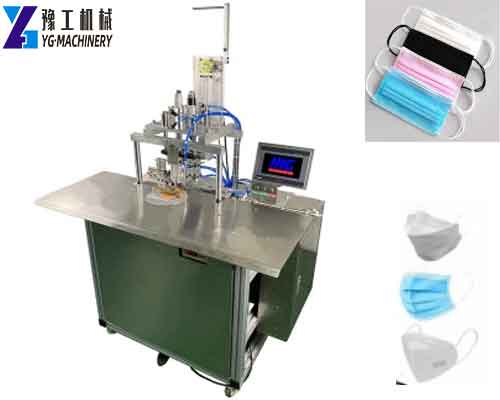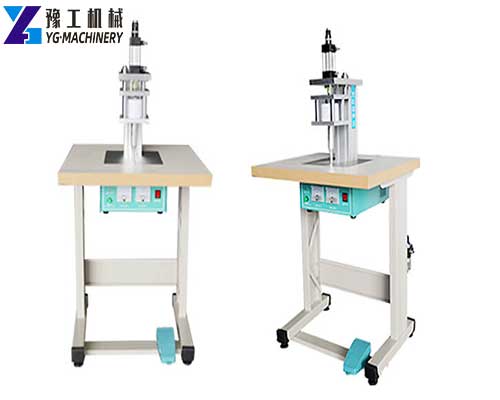 Earloop Welding Machine Principle:
A non-woven mask spot welding machine converts 50/60 Hz electric current into 20 kHz electric energy by the ultrasonic generator. The transducer is converted into mechanical motion of the same frequency again and transmitted to the welding head through the amplitude modulator. The welding head transfers the received vibration energy to the joint of the non-woven fabric mask to be welded, and the vibration energy is converted into heat energy by friction to melt the non-woven fabric. The two sides of the non-woven fabric are solidified by molecular linking, and they are perfectly combined to achieve the welding effect.
Equipment that uses this principle is Mask ear strap spot welding machine, non-woven mask welding machine, non-woven mask spot press, non-woven mask sewing machine, ultrasonic mask lace machine, ultrasonic mask spot welding machine, medical mask spot Welding machine, automatic mask ear strap welding machine.
Ultrasonic External Ear Mask Machine Working Process :
Working process: (face mask body) manual feeding → automatic ear strap feeding → ear strap cutting → ultrasonic ear strap welding → finished product output → counting → finished product stacking → conveyor belt device feeding
The Basic Configuration of Ultrasonic Mask Spot Welding Machine:
New intelligent ultrasonic generator.
The bottom mold has the function of synchronous rotation.
Dual-channel motor speed control system.
Manual (or optional pneumatic) pattern lifting system.
Multi-function pattern bracket and horizontal fine adjustment mechanism.
Double-tube rack heavy machine platform.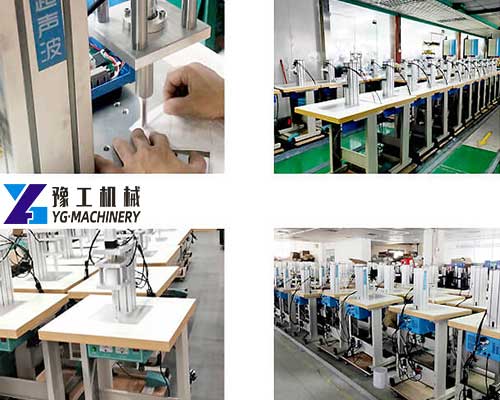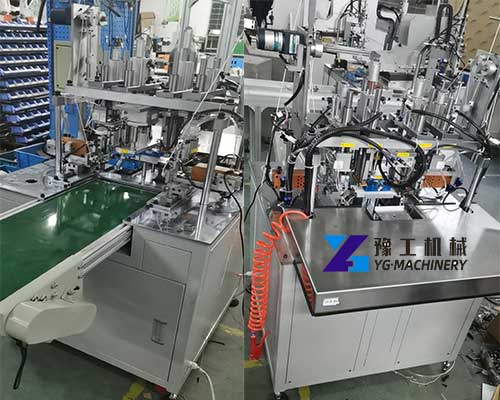 Earloop Welding Machine Performance:
The design of the machine is small and flexible, and the operation is simple and convenient.
After the mask body is made, the ear straps are welded manually, the operation is simple, and the contacts are firm and beautiful. Skilled workers complete the welding of mask ear straps to 10-12 pieces per minute.
Simple operation, the welding spot is firm and beautiful after welding, without damaging the material itself
Ultrasonic spot welding machine adopts original transducer, stable output, high-quality component assembly, reliable performance, complete machine design, convenient operation, mainly suitable for many types of masks (cup-shaped masks, dust masks, duckbill masks, flat Masks, etc.) Designed for spot welding of ear straps, with high production efficiency, simple operation, stable quality, etc.
Ultrasonic Non-woven Mask Earloop Welding Machine Application:
Non-woven fabric mask spot welding machine has functions of fusing, stitching, trimming, forming, embossing, bronzing, punching, slitting, etc.; used for chemical fiber cloth, nylon cloth, knitted cloth, non-woven cloth, spray cotton, PE paper, PE+aluminum, PE+cloth composite materials; suitable for clothing, jewelry series, Christmas ornaments, bedding, car covers, non-woven fabrics, leather lace, pajamas, underwear, pillowcases, bed quilts, skirt head flowers, hairpins Jewelry, ribbon strips, gift wraps, cloth, mouth cloth, chopstick covers, seat covers, coasters, curtains, raincoats, PVE handbags, umbrellas, food packaging bags, tents, shoes and hat products, disposable surgery Clothing, masks, surgical caps, medical eye masks, etc. It has the advantages of one-time fuse forming, no burrs, easy replacement of flower wheels, various styles, fast speed, no preheating, and no need for temperature debugging.